Last month we released PR Progress, a new Smashrun Pro feature which allows you to visualize all the PR's you've set over time. Knowing this information shows you the end result of all your training from different training cycles. So it also makes sense to see what kind of training made each of those PR's possible.
The new run view within the Pro Analyze section provides quick access to the training that took place 3 months prior to each PR. At a glance, you'll see your performance, the basic conditions that affected that performance, and details about your training that led up to that run.
To get the run view, just click on any of your best performing runs within Pace Trends or any of your PR's within PR Progress.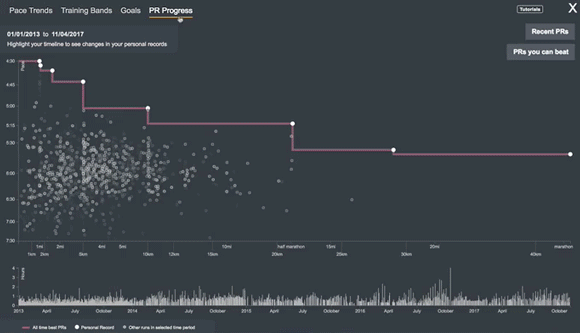 Where it gets really cool is how you can break down your training preparation.
All the runs that you did in the 90 day period leading up to the run you're viewing show up as a distribution. This allows you to easily visualize how many of those runs were longer/shorter, faster/slower, or had a higher/lower heart rate. That's pretty useful information in and of itself, especially when you compare different runs in different training cycles. From here, you can continue to drill down, by highlighting a range of runs.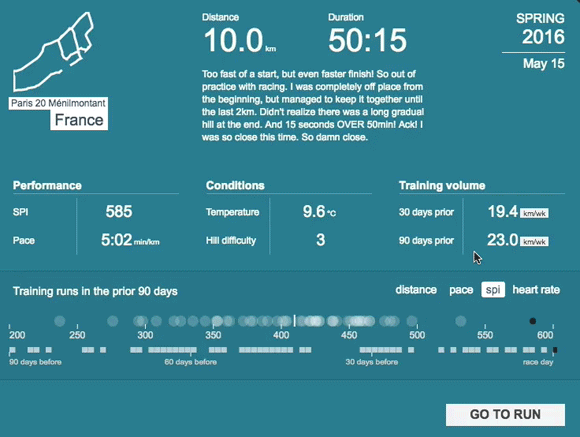 Let's say, for example, that you're looking at the training leading up to your last full Marathon. You might want to see how much time you spent on longer runs. By highlighting the range of all runs that are 10k and longer, you can immediately answer questions such as:
What percentage of runs leading up to the race were 10k or longer?
How many hours did you spend training by running longer?
When were these runs distributed, and were they close to race day or long before?
You can do the same thing by choosing a range of paces or heart rate values, then use it to find when or how many faster or higher intensity runs you did before the race.
With this new functionality, we're hoping it'll make it easier for you to figure out what worked and what didn't work as you compare your training for both recent and older runs to help you plan for your next big race.