Hurrah! Today we released a new Smashrun PRO feature called "PR Progress", which you'll find within the Analyze section.
First off, a PR (or sometimes called a PB) is a personal record/personal best. You set a new PR every time you run faster for a given distance. Regardless of how fast a runner you are, it feels great to set a new PR. Every new PR is an accomplishment, so we decided to focus some energy on visualizing them. PR Progress shows you how your PR's have improved over time and also shows you which new PR's you may be able to set.
It's important to understand that your peak performance happens along a curve. Your very fastest sprint for 1,000 meters might be one pace, but if you run 1,100 meters, it's going to be just a bit slower, and your best 5 km will be quite a bit slower, and your best marathon much slower. That curve looks a bit different for everyone, but it tends to follow a pretty consistent pattern, something similar to what you see below.
The white dots along the red line show the fastest run for a given distance (or farther) so the red line answers the question "What's the fastest I've ever run x distance (or farther)?" And those little circles below the red line are every run you've ever done. You'll notice that all of them are below the red line. That's because the red line represents the boundary between the best you've ever done, and what's left to achieve.
Where it gets even more interesting is when you visualize how your PR's have changed over time. You can do this by selecting a section of the timeline below the graph and/or dragging it over different months or years. As you do this, the curve is re-drawn as Smashrun plots your historical PR's against your all time best, effectively showing you the last time you set a PR for any distance.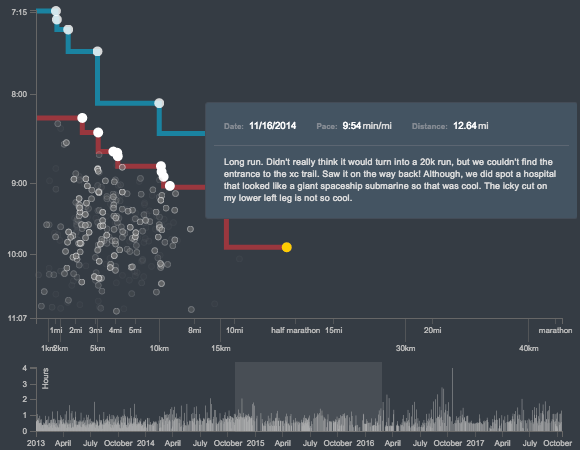 For anyone who's training for a race or just recently ran one, this information can be really validating. Our training runs are the stepping stones towards our race pace. PR Progress helps you identify those pivotal runs that made the real difference to your race. And it's really neat to see how all that training has paid off!
But, how about if you wanted to go out now and break one of your old PR's? Are some of them easier to beat than others? Are you in good enough condition right now to pull it off? Is your 50 minute 10k easier to beat or your 24 minute 5k?
No problem. Click the button for "PR's you can beat" and then select a time period, say for example the past 90 days. The algorithm finds your best performing run in that period and uses that run as a basis to create a predictive performance curve across every distance. Smashrun then redraws that curve over benchmark distances to see if any of the projected times are better than your current best PRs.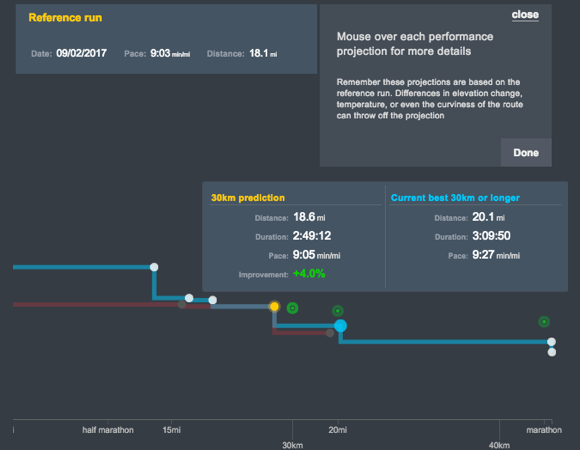 The question we'll focus on for our next feature is how did you set those PR's? How did your training compare for this marathon/half/10k/5k etc versus the last one?
Since this is a new feature, please send us an email at hi@smashrun.com if you find any bugs!