We just added a couple of new features to make PR Progress and Pace Trends even more powerful.
Discovering your "Magic" PRs
What makes a PR magic? A magic number is a number that's significant because… well, just because it is. When we're talking about PR's the magic numbers are nice and round. They're the ones we all try to hit. The most classic example is the 4-hour marathon or, if your name's Kimetto or Kipchoge, it might be a 2-hour Marathon. But, in running, there are hundreds of magic PR's. For one person, it might be a 50-minute 10k, for another, it might be a 10 minute mile.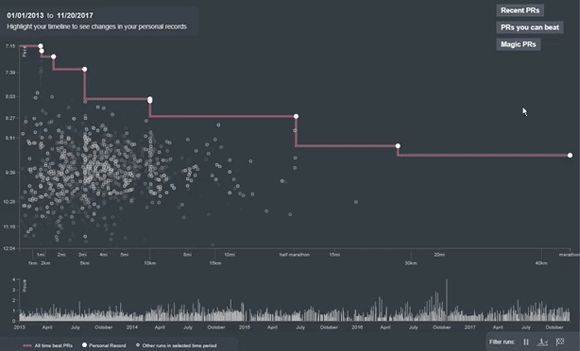 It's pretty simple. Go to the new PR Progress page in the Smashrun Pro Analyze view. Click the Magic PR's button and a bunch of strobing circles pop into view. These are the magic PR's you're closest to reaching. Mouse over them to see the target time and use them to set your next big goal.
Filtering your runs
When you're tracking your relative improvement, there's a couple of things that can throw off your analysis. The first is when you compare runs with pauses against runs without. If last year you used to run a route that took you across a big intersection and you usually paused for a couple of minutes in the middle of your runs, then that recovery time may have artificially inflated your performance. That's not necessarily a big deal but, if this year you don't pause at all, it can look like you ran slower, even though you improved. There's now a filter button in the lower right hand corner to exclude runs with pauses.
You can also filter out treadmill runs or, if you're mainly concerned with your performance during races, you can apply a filter to only view races.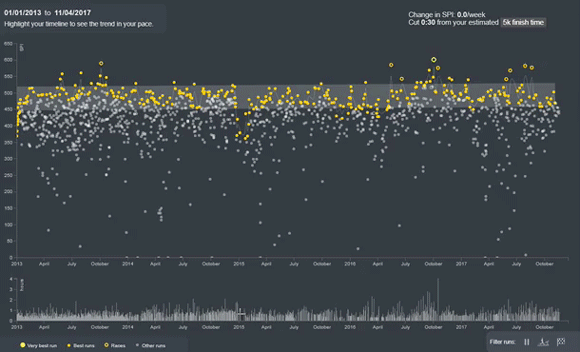 Thanks to everyone for all your great feedback. We'll keep improving and adjusting.