Smashrun moved to a new Garmin API. If you're having trouble syncing here's what you need to do:

Under Garmin (auto-sync) if you you see a "Connect" button click it. This will open a popup. If it doesn't it might be blocked by your browser. (Look for an unfamiliar icon in the browser url bar, and click it to enable popups). Login to Garmin Connect and follow the prompts.
The popup should disappear and you'll see a message "Connecting to Garmin"
There's about a 1 in 10 chance you'll get a message saying "Garmin's being weird". We're working on this, but the fix is easy, just try again.
The next step is important. If you're on a desktop, mouse over the gear and change the default import source to GarminHealth and then click the sync icon. If you're on a phone click the hamburger menu on the right side and select "Sync GarminHealth"
If you've done this, and your runs still aren't showing up it may be because of a limitation of the new Garmin API:
The new API will only sync runs that originated from a Garmin watch. Garmin will not send runs from other sources to us, even if they're on Garmin Connect.
The run must be classified as a run on your watch. If you record it as another activity type and then change it to running on Garmin Connect, Garmin will not send it to us.
New runs will be pushed automatically. You should not need to click sync unless you're retrieving older runs that are missing on Smashrun.
The new API is fire and forget. We ask Garmin for runs, and it gets back to us. We have no way of knowing how long it will take or if it will respond at all.
We've currently capped historical sync at April 11th because we are having issues with duplicates, missing runs, and multisport/triathlon runs. When we work out these issues we'll enable full historical sync.
The old sync was much better at importing historical data. If you are having trouble importing data please do not delete your account and create a new account.
If you have missing runs, remember you can always import the FIT files from Garmin Connect.
To do this:
View the activity on Garmin Connect and mouse over the gear on the right hand side.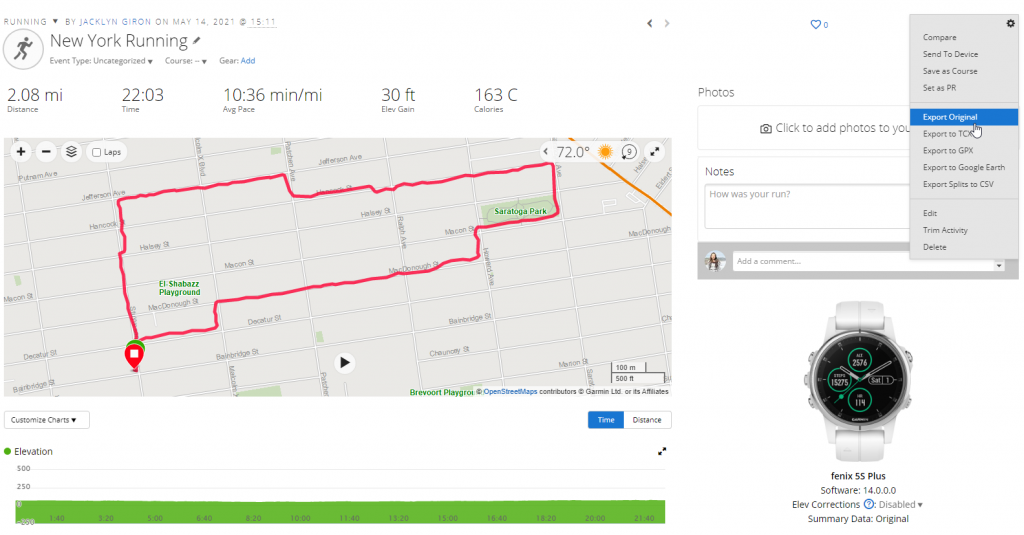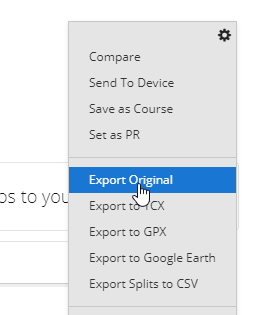 Import the file into Smashrun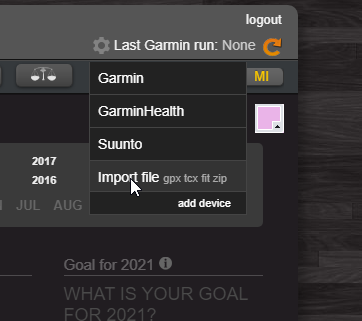 I know for some of you this transition has been really frustrating, things were working well, and now they're not. We're committed to working through all the issues, we're just a bit overwhelmed, so it may take some time. Don't give up. We'll address every issue to the full extent that we're capable.