Update Jan 3, 2020. If you decide to reset your badges, but you're also going for the 366 days in a year badge, then you'll run into an issue, because your badges will start counting from the day you reset it. Email us at hi@smashrun.com and we'll manually adjust the reset date to Jan 1.

For many of us there's this kind of honeymoon period with the badges on Smashrun. You earn a few badges, it seems silly, but fun. You set your eyes for some harder ones. Before you know it you're running a streak, you're building a staircase, you're piling on longer and longer runs each month. And what started out as just a little fun, has ended up transforming you into altogether better runner. It's the Smashrun magic.
But then you run out of badges to earn. The magic wears off a bit. Sure you don't need badges to motivate you to run, but it might be nice to have something to shoot for again.
Starting today, we've got a pretty good solution to this problem. If you're a Smashrun pro user you can go to your Settings page and select reearn badges.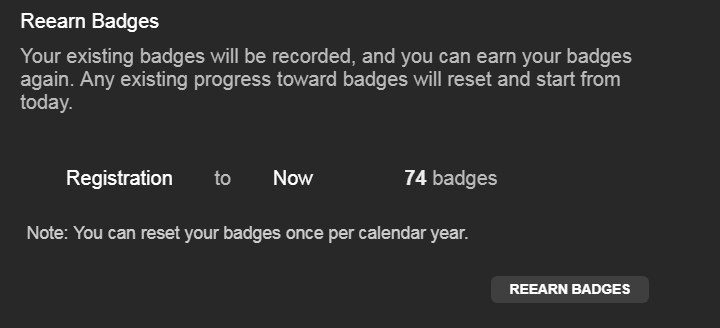 What this will do, is take all of your existing badges and add a +1. That's it. All the badges will start again with your next run. Run a mile or more for your next run – You'll get the 1 mile badge. Good on ya!
Now, let's say, you do this, and suddenly you think: "Good lord, what have I done! I only had one stair left in my Towering Staircase. Now I'm back at the first step!"
No problem. Just click Undo. This will get rid of your +1's and flatten everything out just the way it used to be.
So, let 2020 be a year of badges! Start your staircase. Kick off your streak. Or just take the simple pleasure of counting off each new month with 10 days of running.