A few weeks ago, TomTom approached us about becoming an early adopter of their new API Program. We're happy to say that the process was pretty smooth and the integration is now live!
The original TomTom Runner and the newer TomTom Spark are rock solid GPS watches. You can pick up the original Runner for well under $100 on Amazon. It's got remarkably good GPS and nice big numbers on the display. The new Spark is more expensive but it's leaner with an updated interface. It also and adds options for an optical heartrate sensor unlike most, according to DC Rainmaker this one actually works. Spend a bit more and you can get built in Bluetooth music streaming. This means you can leave the iPod and chest strap at home, which is, well, just really awesome. Both the watches also have several modes for running including the ability to set target pace, target HR, or set individual run goals by time or calories instead of just distance.
Here's how you import your runs from TomTom MySports
Note: If you've ever synced your TomTom runs through Nike+ or via a 3rd party app sent by Tapiriik, you should definitely set a minimum import date to avoid potential dupes.
While logged in, go to the Synced Devices page, scroll down to TomTom and click 'Connect'. You'll be prompted to authenticate with your TomTom MySports account. Once you've entered your credentials and clicked 'Authorize', you'll be all set to sync!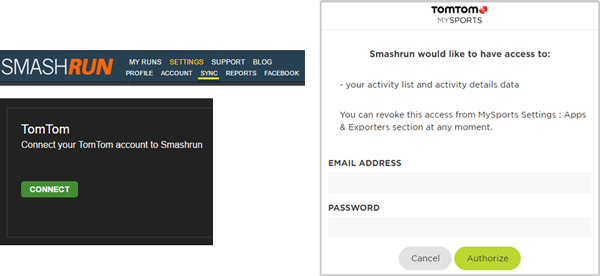 Just two things to note:
If you disconnect your TomTom account on Smashrun, the only way you can reconnect is by removing Smashrun as a 3rd party application on TomTom MySports and then you can reconnect.
TomTom is currently sending your runs in GPX format. That means, if you run on a treadmill, there's no GPS points, so we can't calculate your splits. Instead, you'll only be able to import the summary details. We're following up on this to see if there are plans to fix it.
We've tested the TomTom integration as best we could but, like all new integrations, we need your help to make it perfect. So, if you find anything unusual, please send us an email at hi@smashrun.com so we can take a look!
PS – The excellent TTWatcher app still works, so if you'd prefer not to skip sending your runs to MySports before syncing to Smashrun you can still do that.