We've added a new visual layer to Smashrun's Overview pages! Now you can interact with the distance charts, Trailing mileage charts, Runs distance vs. pace, and an infinitely more useful version of Days run vs. days without.
The interactivity should provide more transparency to your data so you can actually dig in and discover additional metrics such as number of runs, average pace in different time periods, % of runs above a certain distance or pace, without ever having to leave your Overview page. Here's the detailed rundown.
Miles/kilometers per month/day

Mouse over any of the bars within Miles/Kilometers per month to see number of runs, total distance, and average pace. Average SPI will also show up for Smashrun Pro users. If you click on a given month, it will take you to that month's overview page. Likewise, if you're on the month view and you click on a day, it will take you to the run.
In addition, you can also mouse over the values along the y-axis, to see which percentage of your runs (or which months/days) are greater than a certain distance. This allows you to get a better sense of your base mileage – plus, it's kind of interesting to see how much of your monthly volume or daily runs are above or below a certain distance!

Trailing mileage charts
This has always been a bit tricky to explain. Because it's "trailing", any given point along a trailing mileage chart is the cumulative result of a preceding period. In other words, it's a rolling total distance.
Any point within the All Time view will show the period of one year, points within the yearly view will show the trailing 90-day period, and points within the monthly view will show the trailing 7-days.
Now that you can interact with the trailing mileage charts, you can actually see which months/days contributed to any point within the chart. You'll also see which runs are included on the Miles/km per month, Runs distance vs. pace, and the daily/weekly stats calendar.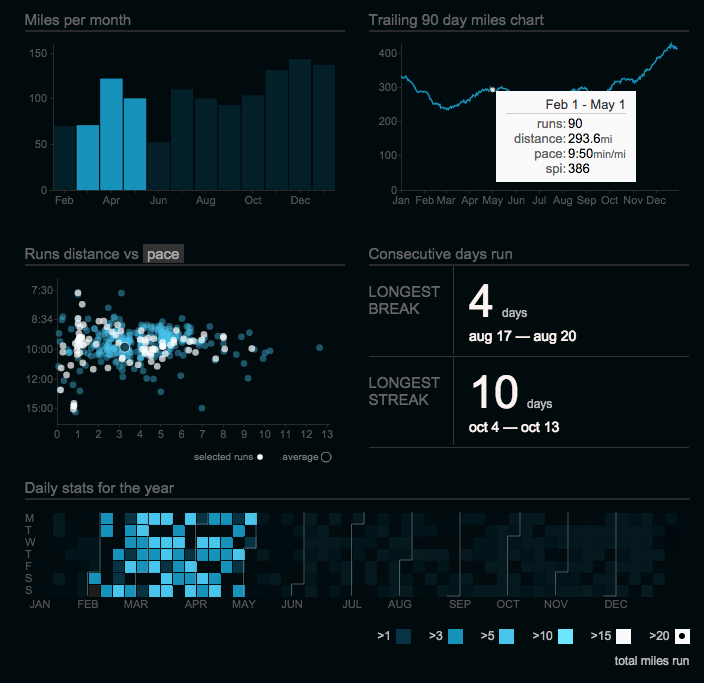 Runs distance vs. pace/SPI
Runs distance vs. pace chart (the scatterplot) now shows the % of runs faster than a certain pace and/or greater than a certain distance. This will give you a much clearer understanding of your run distribution. You can now also select a run from within the scatterplot and it will take you to the By Run page.
Move your cursor over the y-axis values to see what percentage of runs are faster than a certain pace. Mouse over the x-axis values to see what percentage of runs are longer than a certain distance. To see runs greater than a certain distance and pace, move your cursor within the scatterplot.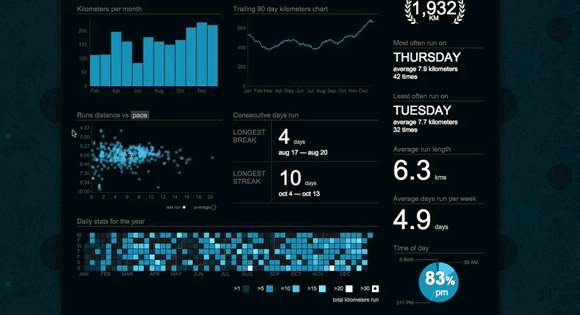 For Smashrun Pro users, you can switch the scatterplot to display Runs distance vs. SPI. This will help you compare your runs based on performance instead of average pace.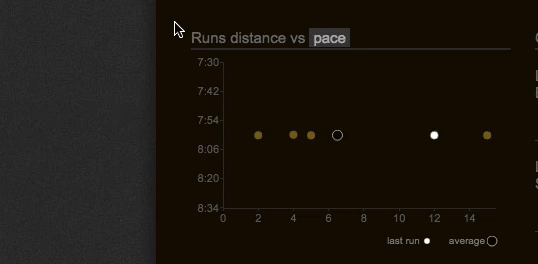 So if, for instance, you wanted a quick and easy way to spot your 10 best runs this month (or top 10 runs for the year or even all time!), now you can. And you can click on the run within the scatterplot to view its By Run page.
Weekly and Daily stats for the year/month
We replaced Days run vs. days without with a calendar heat map that visualizes your weekly and daily training volume. The colors will help you distinguish between the high and low volume weeks or days, which can be really useful when you're reviewing your training history and you want to figure out in which weeks or days you ran the most. All you have to do is mouse over the distance brackets.

In the All Time view, it shows your weekly stats for each year. From this, you can see in which years you might have been training for an event like a marathon, because you'll spot the high mileage weeks in white.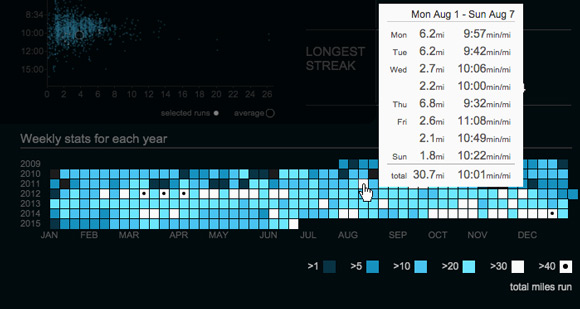 In the yearly view, you'll see your daily stats for the year. Each day of the week has its own row. Because of this, you can answer questions like: on which days do I run the least distance or when do I usually run long?

In the monthly view, it'll be the daily stats for the month, which includes the total distance for each week (just after every Sunday).

There were many breaking changes in this release, so please keep us posted and send us an email at hi@smashrun.com if you encounter any issues.
Other big changes…
Importer – if you're importing multiple runs for the same day (e.g. if you ran twice today), both runs will get imported at the same time whereas before every run entered the main import queue
Prompt to publish – if your FB post preference is set to "prompt to publish" and you just imported multiple runs, the prompt will always default to the longest run that you just imported instead of the last run that was imported
Same logic above applies to auto-publish
iSmoothRun/Run.GPS users, and anyone importing via email: you should now get prompt to publish and post-import notifications
Import via email – the "you've got mail" notification now only shows up once when bulk importing > 20 runs, otherwise you'll just get the "we successfully imported your run" modal
Multi-sport – you can now retrieve the run portion(s) of a multi-sport activity from Garmin Connect (yeah!)
We also recently updated the running apps page to reflect recent testing with Android apps and Windows Phone apps, and, in case you missed our last post, Smashrun is now integrated with RunGap (which can help you retrieve your stats from Strava and Suunto, among many others, and into Smashrun).