Setting a goal has always been the first step towards better training, but tracking your progress towards it provides the guidepost that will lead you through your toughest training days.
The challenge with goal setting is that even the most conservative training plan can fall through, but knowing how far you have to run to stay on track means you're more likely to reach your goal(s). Even more importantly, knowing how much distance you can run per week to catch up by any future date makes it much easier for you to adapt. This is why we built Progress Towards Goal.
This feature helps you answer the questions:
"How much do I have to run every week to be on target with my 2014 goal?"
"How much do I have to run per day this month to be on track by November 30th?"
"How do I stay on target even when I take a couple of rest days?"
To view Progress Towards Goal, Smashrun Pro users can now mouse over the bar graph of a current month or year-long goal and click on 'Show Progress'.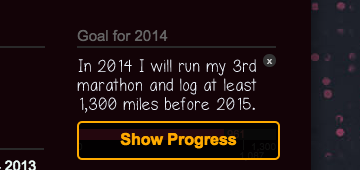 This will take you to the Goals section, which you can also access by clicking on Analyze from Overview.
Your list of current goals will show up on the top left with your past goals underneath it, and you can view all of your historical goals with its corresponding details.
The yellow line graph indicates your current progress, whereas the grey line graph shows the most direct path to your goal.
The x-axis shows the days you ran. The color gradient indicates how far you ran – the darker it is, the shorter the total distance you ran that day relative to other runs for that month. The brighter it is, the longer the total distance for that day. You can mouse over the individual runs to see how much distance you covered that day and clicking on it will take you to the corresponding By Run page.

When you mouse over the line graphs, you'll see how far ahead or behind you are from the most direct path to your goal, as of that date. So think of the grey line as your guidepost. You can be above or below that line at any point in time, but staying close to it means you're more likely to reach your goal.
If you're behind, you can mouse over any date in the future to see how much distance you have to run per week/per day to get back on track by that date.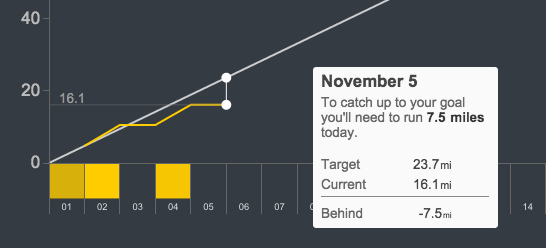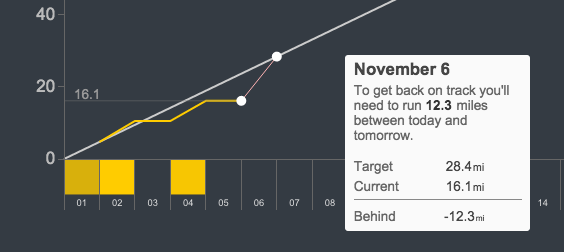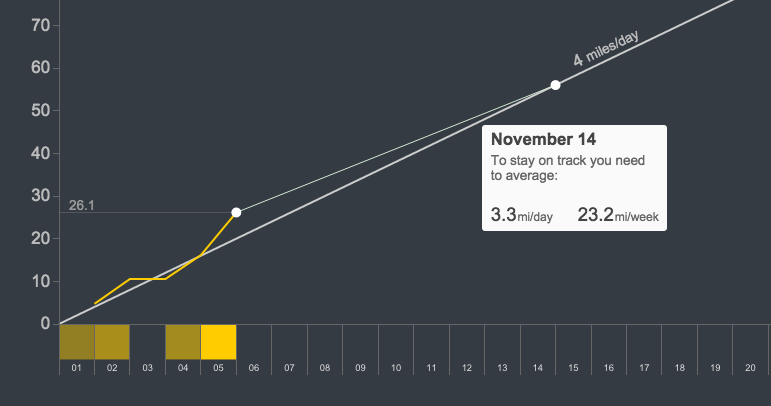 Naturally, you're not expected to run everyday. The great thing about Progress Towards Goal is that it will automatically recalculate your different paths to help you reach your goal, regardless of how many miles or how many days you run each week.
So rest when you need to, run when you can. Progress Towards Goal can always tell you what you need to know to stay on track, so you don't have to do the math in your head.
With the holidays approaching we're all going to need all the help we can get sticking to our goals. Hopefully this and the other Smashrun Pro features will help keep you on track.