No more flipping back between the run list and the by run page. Woohoo!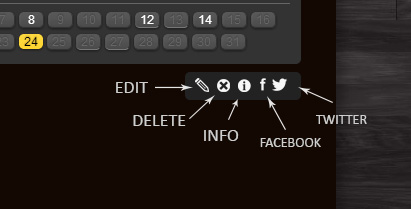 We've added some new shortcuts just under the calendar so that you can now easily do all of the following directly from the run view:
Publish a run to Facebook or Twitter
Edit a run's details
Delete a run
View extra details about a run
Weather Updates
Weather on newly imported data should be a bit more accurate now. We've fixed some timezone related bugs and we're also now interpolating the temperature if it falls between 2 readings. So if, for example, you start your ran at 7:15am and finish at 7:45am we'll take the midpoint of your run (7:30) and get the 2 nearest available readings. These are usually by the hour, but may be much longer depending on where you are. So, we'd grab the 7am temperature and the 8am temperature and since 7:30 is 50% of the way between the two we'd split the difference. If the available weather readings are few and far between or if there's a sudden change in temperature this can actually make a pretty big difference.
Once we're sure these changes are working we'll rerun them historically. There's definitely some limitations of the weather services we're using, but hoping this iteration should be much closer to matching reality.