Before we designed the Pro Map, we asked ourselves: what sort of information is best conveyed while viewing the route of your run?
There's the obvious metrics including your fastest split, the ability to see elevation changes and, a pace graph that you can interact with. All of these are helpful in the sense that they summarize exactly what you did. You know how fast you ran, how far, your average HR, cadence, etc. but, you don't always know what contributed to your performance.
The Pro Map is designed to help you better understand the relationships between the different variables that affect your running. By looking at these relationships, you can identify your strengths and weakness for a given route. Here are some of the things I look at on a day-to-day basis after a run.
How Hill Grade Affects Speed
Chances are pretty good that you'll slow down while running uphill and speed up on the downhill, whereas what you should do is maintain the same effort and stick as close as possible to your target pace as you go up and down the hill.
If you wanted to compare your speed for running uphill vs. downhill, you just have to look at your hill grade distribution, highlight the relevant %grade, and view the revised details on the left.
This is what it looks like when you select all of the uphill portions, 6% grade and higher, for a run.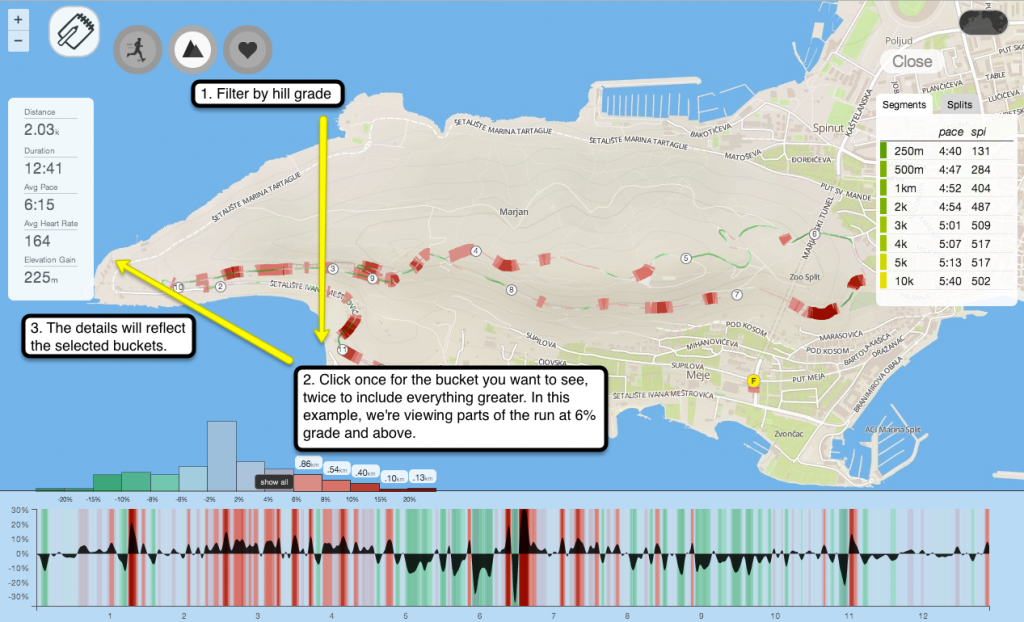 To compare it to your downhill stats, just select the opposite side of the distribution curve – select the buckets that are -6% grade and lower.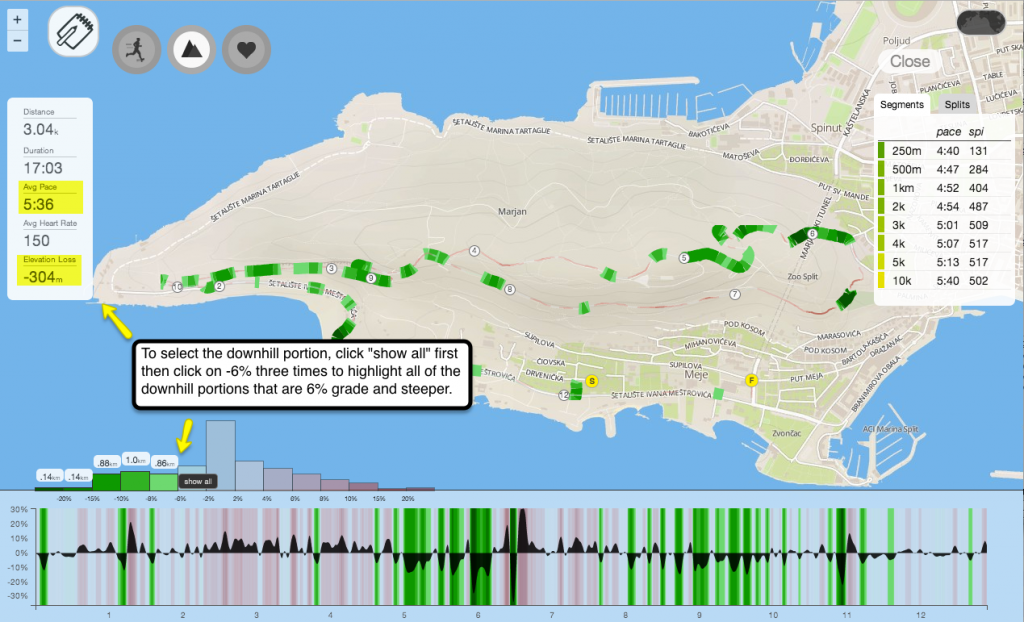 You could also mouse over the pace filter while viewing your hill distribution to see how your pace changed at specific points during a run.
HR Recovery Between Intervals
Intervals, or repeats, are most effective when they're executed consistently after every recovery. If, however, each interval goes slower than your last then you're probably either overreaching or you need a much longer recovery period between each repeat.
HR is one of the best indicators of recovery. When your HR isn't recovering enough after each interval, it will pick up from a higher baseline than where you originally started on your first interval. That also means that you might not be able to perform as well at each repeat. If you do it right, it should look pretty consistent.
To see an overlay of your HR while viewing your pace graph, just mouse over the HR distribution filter.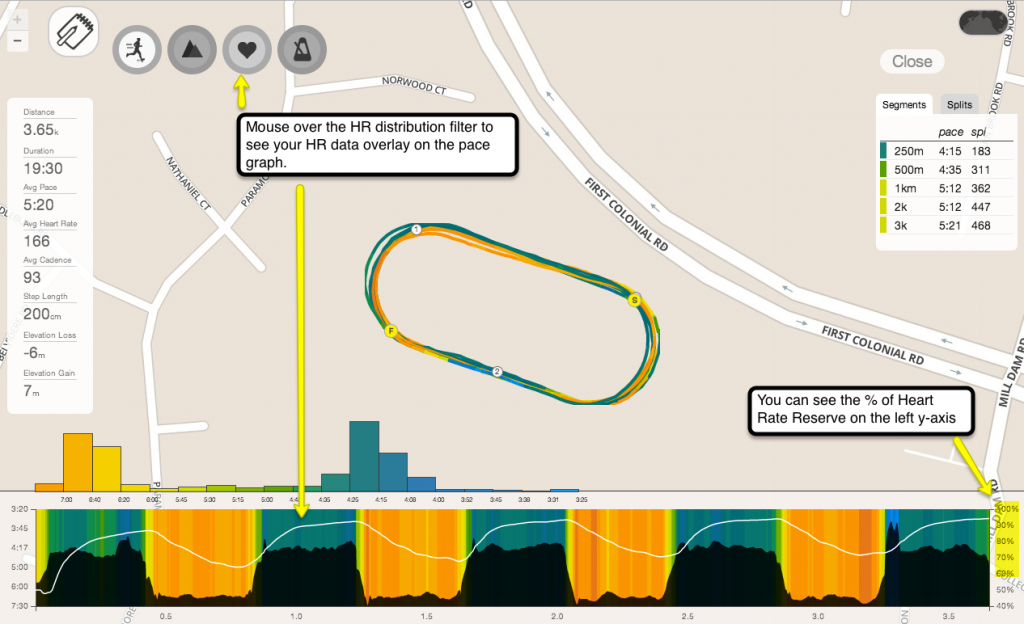 You could also just view your HR graph and see how much time you spent at recovery vs. how much time your HR was greater than or equal to 90% of your Heart Rate Reserve.
Effect of Pace Variability on Cadence
A higher cadence is generally associated with improved running economy: the quicker your turnover, the less time you spend on the ground, and the greater your forward movement, which means less vertical oscillation or "bounce". The tricky part is maintaining roughly the same cadence, regardless of changes in your pace.
With the exception of a few situations, such as a full-out sprint, a challenging trail, or a slow jog to warm-up, a steady cadence is usually a good indication of efficiency because it suggests that you're expending approximately the same amount of energy regardless of pace.
When you look at your cadence distribution, it should often appear almost like a straight line. Easy runs usually have the steadiest cadence like this one.
The thing to keep in mind is that sometimes, it's important to keep cadence steady to conserve energy. Just remember that, like everything else, it's just another variable to help you evaluate your overall running efficiency. Here's a quick brush-up on cadence and running economy: http://www.irunfar.com/2011/03/improving-running-economy.html
These are only a few of the things I tend to analyze using the Pro Map. You could also look at how your HR responds to hill difficulty or pace variability. Or view how your stride length changes depending on your cadence. How do you normally use the Pro Map? Let us know in the comments.
Got questions about other use cases? Send me an email at jacklyn@smashrun.com.