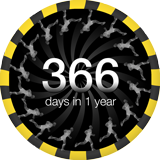 It's a new year, a new decade, and a chance to put your running front and center. 2020 is also a leap year, and that means that it's a chance to pick up one of the most rare and coveted badge on Smashrun – the Leap Year Sweep.
To get it you'll need to run every single day for 366 days starting on Jan 1. There's no minimum distance requirement (although some people set one for themselves). You just have to run Every. Single. Day.
That means scheduling, making sacrifices, and being very, very careful to avoid injury. You'll need to listen to your body, keep the long range goal in mind, and not take risks by going too hard or too far than your body is ready.
If you pull it off, you'll earn at least 5 badges, but more importantly you'll have taken your running to a whole new level.
There's a reason that just 137 people have earned it. If you want to take a shot you have to commit now and stick with it. Are you in?
NOTE
———————————————–
We hit Strava's daily rate limit today. This is pretty disappointing, but the first time it has happened so far. We've had a lot of new registrations connecting to Strava today, so hoping this won't be a problem going forward.

That unfortunately means, until the rate limit resets, you'll need to upload a TCX or FIT file.