When a friend asks you, "How was your run?" there's usually a lot more to share than just how far and how fast you ran. Maybe it was a slog along a muddy trail by a river, or maybe it was hilly race on country roads in the rain. Now you can share those details on Smashrun.

Let's say you're feeling pretty good about your last run. The first step is to click the like button. Liking your own run will alert your friends that you're feeling pretty good about it, and it will show up in their notifications feed. Then you can add tags to fill your friends in on the details. 
But, let's say you're not feeling that great about a run. It's not a bad run per se, maybe it's just the kind of run you don't want to bother your friends with. For example, a short recovery run where you took a long break in the middle for a visit to a public restroom. If you click the new "No Social" tag, the run will disappear from the social feed entirely.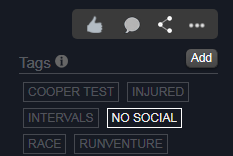 Note: If you have social disabled, this is entirely unnecessary because all your runs are private.
When you're tagging a run you feel pretty good about using any of the tags on the tag popup will modify your notification. When the algorithm can figure out a way it will combine the tags to come up with a meaningful notification.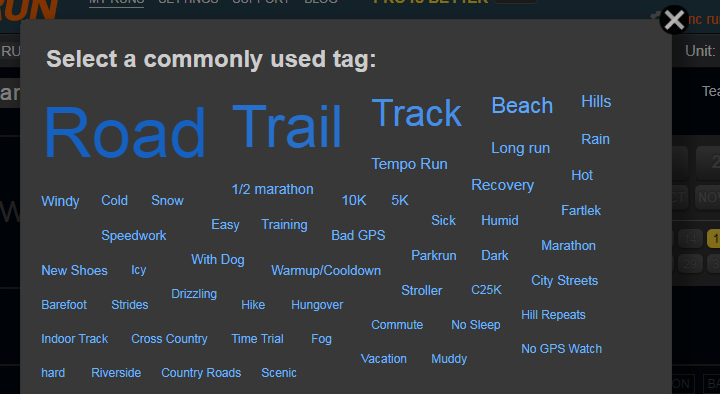 Here are just a few examples of the kinds of notifications you can create:

(hard + no sleep + parkrun)

(muddy + hill repeats + new shoes)

(a 26.2 mile run tagged with scenic + riverside)
---
We also put out a few recent bug fixes…
Fix for the 1st week of the month calendar bug (sorry about that)
Fix for km/mi switch when a user is logged out
Fix for "Run location sometimes now showing up"
Streak now displays correctly in the user profile popup
Fix for some Garmin runs which weren't syncing correctly
Show confirmation before unlinking an account that is still importing run details
Fix for splits showing up in miles in the Facebook share image when account is set to KM
Fix for a rare issue importing some FIT files