We've been pretty busy polishing up the new Garmin Push API, but we still made a little time to add some small but helpful features.
Projected finish time
If you've ever run a marathon, you've probably wondered: "If I had run the second half as fast as my first half, what would my time have been?"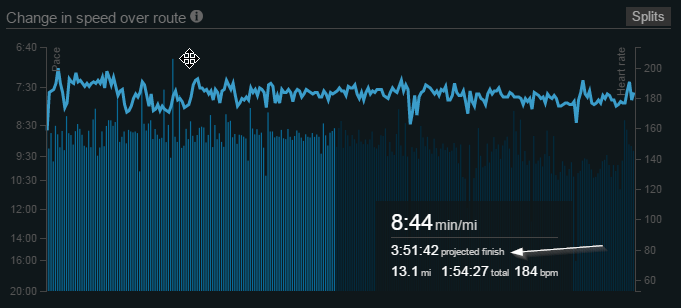 Well, now you can. Just highlight a section of your pace graph on the bottom of your By Run page. And, of course, you can do the same for any segment of any distance run.
Stryd power meter support
We're now importing running power from the Stryd power meter. Power meters are cool because they tell you how much energy you're using instead of how fast you're running. If you run faster but your power goes down, that means that you're running more efficiently, and improving running efficiency is how you can see some of the biggest gains in performance. Power meters are also cool for trail runners, because they are unaffected by hills. Top athletes run fast down hills and slow up hills, but their power and heart rate stay mostly flat.


Note: We're now importing this data whenever we can pick it up but, at present, the only way to analyze it is in the
Smashrun Pro
map.
Elevation Correction
We've added an option to correct the elevation for runs where the elevation looks a bit (or a lot) wonky. The data available for this correction comes from satellite topography, so the resolution is not wonderful. If you run over a bridge, it'll show you running across the river. If you run through a tunnel, it'll show you running up and over the top of the tunnel. GPS-based elevation data is, in general, pretty terrible and only a few lucky people have barometric altimeters (woop iPhone 7!), so there's a lot of messed up elevation data out there. Using this option can be a big improvement.
Note that there's over a dozen possible reference objects on the elevation correction dialog pictured above. They start with a giraffe and end with Mount Everest….not that it improves the usefulness that much, but you've got to admit it's sort of neat, right?
To display the dialog and correct the elevation, click on the bad elevation tag.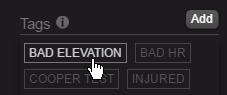 After correcting the elevation, you can also click the bad elevation tag again to remove the elevation data.