A badge for the polyglots
For those who missed our post on Facebook and Twitter, Smashrun is currently working on translating the badges to multiple languages! It's the first big step towards internationalizing the site and, soon after, we'll tackle the trickier task of translating the main interface.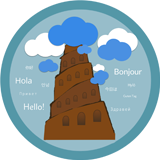 To acknowledge those who are helping us, we've created the Translator badge. The languages we're currently translating include: Dutch, French, German, Hindi, Hungarian, Italian, Portuguese(Brazil), Serbian, and Spanish.
We can add more but, at the moment, we're only adding the ones where we've got translators. If you'd like to contribute to a language, please send an email to hi@smashrun.com – we'll have you set up and ready to go!
A new tool for diagnosing your imports
Our code base for evaluating the data integrity of different apps and devices is a beast. It looks for every possible way that your data can get messed up based on what we've seen in the past: time traveling imports, GPS teleportation, multiple dupes of the same trackpoint, large data gaps that just went walkabout – we mean everything. We've also been using those tools to diagnose problems when users report data issues. We're giving you those exact same tools.
If something is wrong with your import, you'll see a little beacon show up in your toolbox. Click on it and it will let you know what adjustments we've made to clean up the data. And, like the rest of the toolbox components, the beacon is hidden from anyone viewing your runs.

Weather data migration
We've given it some thought. Err… lots of thought, and we decided we're moving everyone to the paid weather service provider that we had previously used only for our Pro users. We discovered that there were just too many gaps in the free weather service. So, we're moving everyone to Forecast.io which is far more comprehensive. We'll now import weather for runs within the past 3 days, so if you ran within that timeframe we should be able to get your weather (pro users will continue to have weather for their runs backfilled for their entire run history).
More fixes! Because we love fixing stuff!
– Tweaks to the pause detection
– GPX import failures due to erroneous values within trackpoints should now import
– Fixes for the "In it" badges and the Ultramarathon badge (fixed after your next import)
– FB auto-publish for imports via email should now work
– Actually, import via email notification should also dismiss on first try (let us know if not!)