Last night we released some new features and a patch that addresses several issues concerning the Garmin importer, delayed ranks, and import notifications, among others.
Below is the detailed list of all the feature additions and fixes for this release!
Elevation graph for Smashrun Pro users
Upon request from one of our Pro users (thanks, Adam S.!), we decided to include the elevation profile within the Pro Map. Now, when you click on the hill grade filter, the graph will show the actual shape of the elevation gain/loss. Mousing over it will show the percentage grade while the actual elevation at each point is reflected on the map.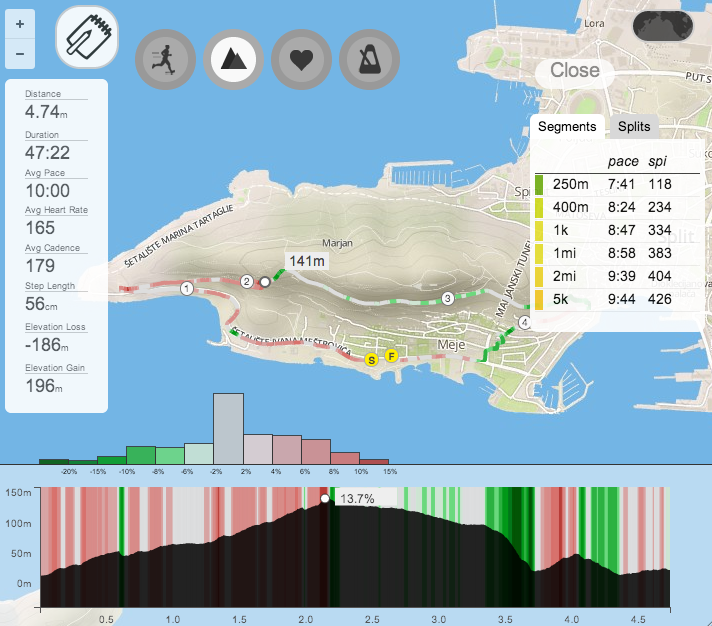 Unlockable background images
To give users slightly more control over the look and feel of their profile, we're introducing unlockable background images based on the number of badges you've earned on Smashrun! Smashrun Pro users and Founding Members will have exclusive access to certain backgrounds. To check out which background images you've unlocked, just go to your settings profile page.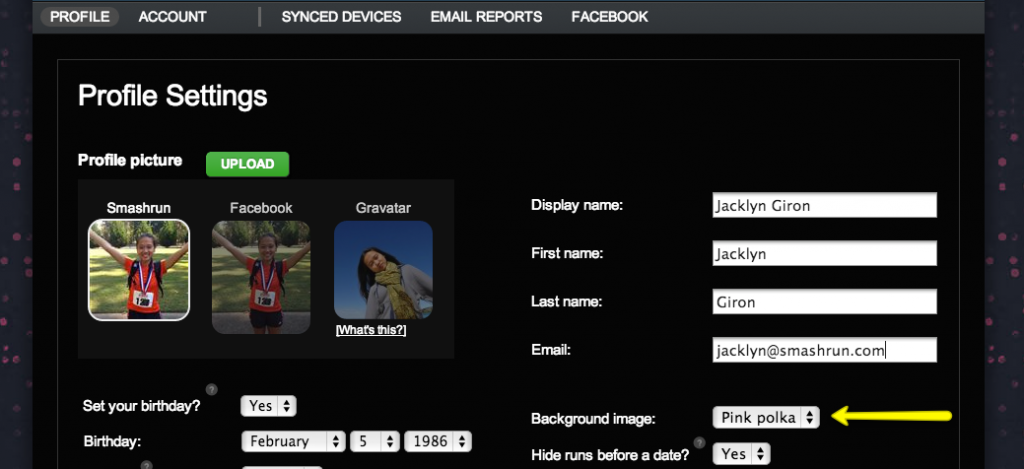 To change your background image, just select one that you've already unlocked, click OK, and you're good to go.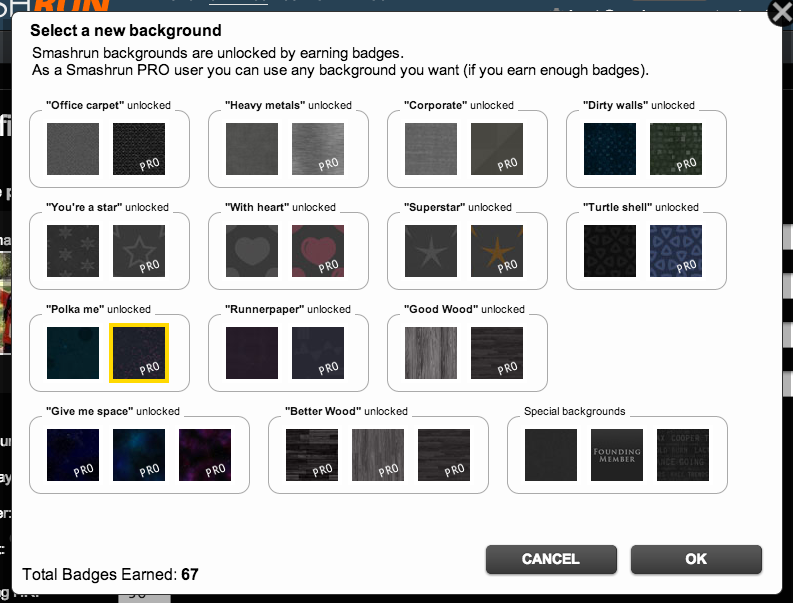 Run facts after importing new runs
Similar to Smashrun's "notables", we recently added Run Facts which appear after you import a new run. We calculate them based on identified patterns after comparing your new run(s) against your historical data, so you'll know when you log a run that's faster, slower, shorter, or longer than your usual runs.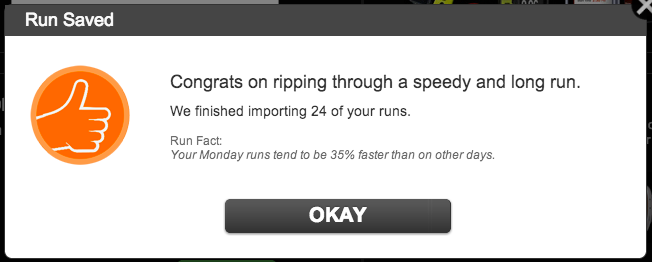 If you're a Pro user, we'll also let you know about patterns involving your best performing runs based on SPI, HR, and pace variability.
Import zip files
Previously, bulk imports could only be done by combining several runs within a single TCX file. Now you can import a zipped file that includes several GPX/TCX files! The process for uploading the file is the same as a standard GPX/TCX upload: mouse over the gear icon on Overview and select "Import file".
Note: If you're uploading treadmill runs, before you zip the files – make sure that they're in TCX format, because GPX only includes latitude and longitude points. Treadmill runs would essentially produce "blank" GPX files. They won't have any of your run data.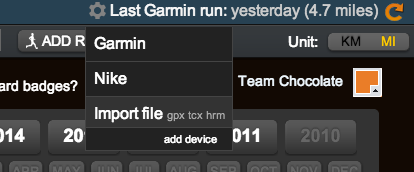 Share Smashrun Pro Maps
Adding #map at the end of a unique run's URL will allow you to share that run's map. This makes it easier for visitors to go straight to the Pro Map features. Check out one of my recent runs: http://smashrun.com/jacklyn.giron/run/994673#map. Of course, the URL wouldn't work if your privacy setting is set to hide your run map details.
Facebook posts use Open Graph API
Smashrun has just integrated the latest version of Facebook's Open Graph API so you can now share a map of your run and view your monthly totals on Facebook. However, there are a few caveats: Facebook needs to approve us to pass your custom comments (part of the Facebook auto-poster) and they also need to approve us for "explicit sharing". Otherwise, your posts will not always show up on your news feed.
It doesn't mean that it didn't post, Facebook's API is just making a decision on whether or not to display it… when it feels like it.
First, you'll need to re-authorize Smashrun to post your runs from your Facebook settings page. The next time you post a run, it will look a bit different. You can choose to hide your map and/or your pace. There might be a short lag after you click "Publish" (we'll add a spinner in our next release) – you'll get a notification that it was successfully published to Facebook.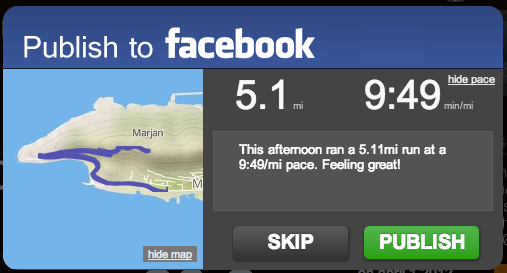 By default, it will display your map, distance, speed, pace, and duration.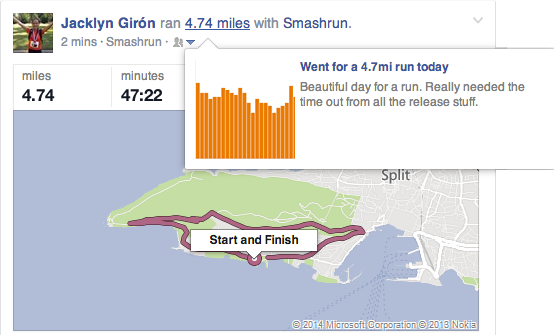 Also, this is only a theory but, if you like your own Facebook post, it's more likely to show up in your friends' news feed as well. A little trickery for Facebook's API! We'll update everyone as soon as the auto-poster content is back in business.
New colorpicker
Smashrun users will have access to a new colorpicker this month (thanks, Frank C.!). If you have your own colorful running-related photo that you'd like us to consider, send us an email at hi@smashrun.com. You could earn the colorpicker badge.
Beta support for Magellan Active sync
If you're running with a Magellan Echo, Magellan Switch or Magellan Switch Up, you can now sync your data to Smashrun.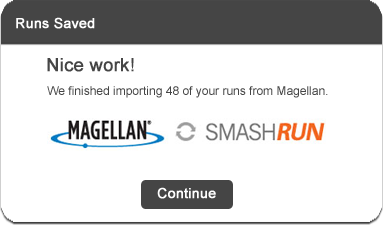 Currently, we're still in the early stages of Magellan's integration, but it should be stable enough to import your runs without any trouble. Please let us know if you find otherwise. The setup process can be done from the bottom of the settings synced devices page.
Additionally, if you have a bunch of FIT files that you would like to import into Smashrun, you can also upload those files into Magellan Active and then sync them with your Smashrun account.
As mentioned, there were also a lot of fixes that went out into this release. For those interested, here's the quick rundown:
* Fixed the delay in ranks
* New Zealand Time Zone issue is fixed (thanks, Peter S.!)
* Optimizations to the Garmin importer for treadmill runs and re-importing old runs
* Custom fix to Garmin's reversed SumDistance errors
* Facebook auto-post will now post runs imported via email
* Goal setting deadline is now set to midnight for the 1st day of the subsequent month
* Removed auto-fill for goals
* If you lose HR data during your run, it will no longer zero out on Smashrun
* SPI for deleted runs no longer show up in Pace Trends (or on the Trailing 90-day SPI)
* Hidden data will no longer show up for fastest runs of a similar distance
* Badge and import notifications should no longer overlap
* Blog post notifications are dismissed once clicked
* Email imports won't send email message if at least one importable file is attached (thanks, Terry G.!)
Thanks to everyone who reported bugs. Your feedback helps us keep Smashrun in good shape. If we missed anything, please send us an email and we'll try and include it in our patch.