Update as of 2:45PM EST > site outage was delayed to 2:40PM EST, we expect to be back up before 5PM EST.
Just released another patch this morning that sorts out the remaining Nike import errors and missing run charts. If you had any trouble with:
Missing "Change in speed over route" charts for Nike+ foot pods

Opening certain route maps
Inviting friends to Smashrun
Following back
Resetting your Smashrun password
Setting your birthday to earn the birthday badge
Empty route maps for Nike+ Sportwatch
Different weekly mileage between Ranks and your friends drop-down
Linking to specific runs from the badge detail page
Tags breaking when you add one
Viewing actual pause calculation, where applicable
All sorted out! If you find otherwise, please leave us a comment or email us directly at hi@smashrun.com so we can look into it immediately.
Smashrun's emails have also been redesigned (and all links should be working now!) in preparation for additional changes we'll be rolling out this summer. So next time you send out an invite, it'll look just a tad bit friendlier.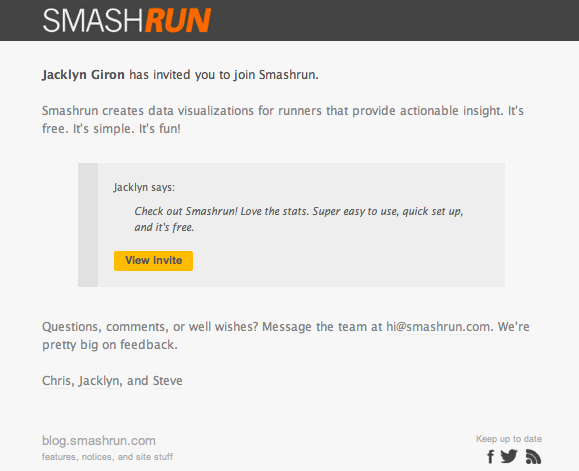 And for our users who requested a different map view, we added a new default map for runs with GPS data.  If you click on a route map within By Run, all maps will default to the new version. The "switch" between views is the globe icon on the top-right corner of the map.
For our Garmin beta testers, several fixes went out with this morning's patch including:
Improved pause detection

Revised distance calculation to better match Garmin's summary details
Support for combined HRM and GPX  import via email
Fixed missing charts for footpod-only data
Fixed "Change in speed over route" charts and route maps for combined GPS and footpod-only data
For all Garmin, GPX, TCX, and HRM related issues, please email jacklyn@smashrun.com.