We are super excited to share with you our very first release for 2013! We've got running streaks on the Overview pages, and route maps are finally here!
You can view your longest streak on a yearly or monthly basis and we threw in a couple of easter eggs (like my sad Wylie Coyote) to make it more interesting as you hit certain milestones.
Then, in preparation for Garmin's integration, we've brought back the ability to re-import your running data with GPS so that we can backfill any of your old runs with its corresponding route map. You can access the re-importer on settings > SYNCED DEVICES.

However, before you opt-in to reimport all of your Nike+ GPS data, it's very important to understand that doing so could change your current stats on Smashrun (and, for the most part, in a very good way!)
You see, every run tracking device has a different way of processing your metrics and smoothing out the data. So every time you import your run from one source into another, there are algorithms that are being applied to clean up the pauses or breaks in GPS. Some methods are more accurate than others. To ensure that any run you upload into Smashrun is handled consistently regardless of what device you used to record it, we need to start calculating your run details from scratch. This means that re-importing your data will allow us to calculate your metrics using only the trackpoints in your GPS data.
The upside to this is that we'll be able to provide you with more analysis since we're backing the summary details straight from the source. The downside is that what you see on Smashrun will not always match what you see on Nike+, but it'll always be very close. Not to mention, your route maps will look pretty friggin' awesome.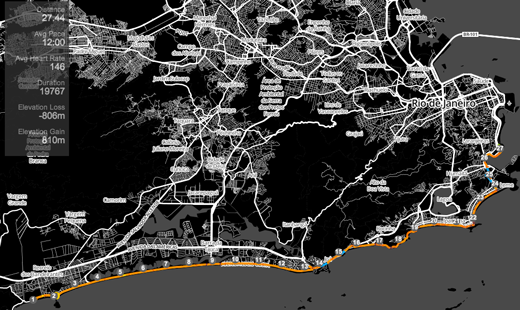 But if you'd rather not touch your old stats, don't worry about the re-import (you don't have to do it). You'll still get your route maps for each new run you sync going forward! Yay!
Let us know your thoughts. We're actively testing Garmin with a few users over the next week and hoping to get it out to everyone as soon as we can. Hope you guys like the new additions!
PS: We did add several new privacy options in conjunction with the release of route maps. So if you wanted to only show the shape of the map but remove any actual location details and remove the ability to click on it, you can do that as well. Just go to your settings page > scroll to the bottom > expand privacy settings and check what you want to apply > click save changes once you're all set.