We know it's been a long time coming. We've recently had to rework our entire data model to make way for future device and mobile app integration and, while it still requires a bit more work, we're finally getting there… In the meantime, we hope you enjoy the new features we just released!
33 New Badges
The Kelly series is our latest set of badges and we tried to include even more structure than usual for some of our progressive badges. For instance: the 12 monthly badges help you build consistency – run any distance for any 10 days in any given month. There's also the staircase badges, which can help you with base training.

Keep in mind that some of the badges are quite challenging as well, like the Roadrunner and Mercury badges or the Towering Stairs. Train smart. And when in doubt – don't go for it. There's always more badges in the making!
Badge Details
Clicking on badges will now give you a better idea of how close you are towards earning it. That way, you can plan out your runs if you wanted to! Maybe you'd like to space out those 10 runs per month. Or plan out five 400-meter sprints followed by casual jogs at a pace slower than 10:00/mi (6:12/km) in the same month.

The details are basically there to help you make better decisions about your training schedule.
Notables
We've always said that Smashrun is about "making every run count." We do this by focusing on the relative value of each and every run. PR's are great, but they don't happen everyday. So we're introducing "notables."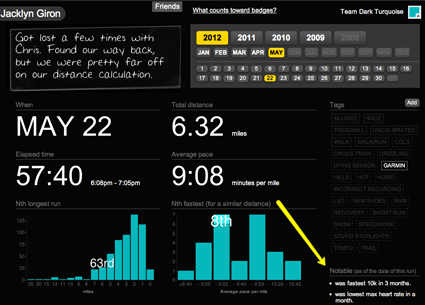 There's often something exceptional about certain runs that we don't always notice. The obvious is easy. You usually know when you've run your fastest of a certain distance, but what about the obscure? Like your fastest mile or km splits in a 3-month period, your lowest ever average HR, or your highest calories per minute burned in the past year. That's what "notables" are for.
Share Monthly and Yearly Progress
Remember "Tweet your 2011 stats"? Now you can do it for every year and every month in your entire running history. We've also introduced Facebook aggregates as a temporary stand-in while we sort out the Facebook Open Graph API.
You have complete control over what's published on Facebook and/or Twitter. We fill-in some of the stats for a given month or year, but you can always change it! Let's say you're training for the ING NYC Marathon and you'd like to keep your running buddies aware of your training progress. You could customize a monthly aggregate just by clicking on the edit icon on the top-right of your "publish to Facebook" window: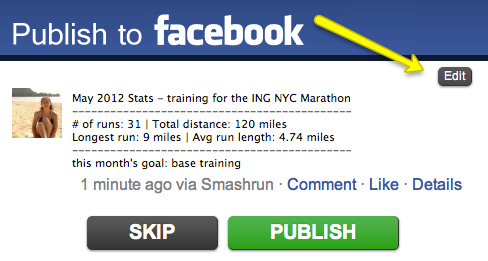 Prefer to tweet your progress? Same steps! Remember that the Facebook and Twitter icons will show up in all of your Overview pages. Just use the calendar on the right to navigate to the month or year you'd like to publish, click on your social network of choice, customize your post, and share.

Oh, and since we're on the topic of Run Overviews – we made a tiny change that might make a world of difference when looking at your runs. Previously, the Overview pages would only allow you to view yearly and monthly aggregates, it didn't link up directly with the By Run pages. Now, when you choose a specific month in a given year within your Overviews, you can also drill down to an exact date to see the individual run detail.
Here's the "before"

And "after"…

Search for Friends
From the "Friends" drop-down on your Overview page, you can now search for Smashrun users by name and by Facebook association. If you're friends with someone on Facebook that also uses Smashrun, you can find and follow them pretty quickly!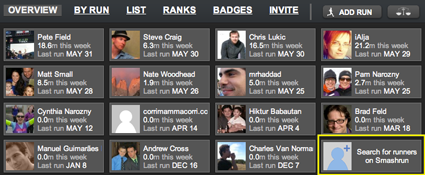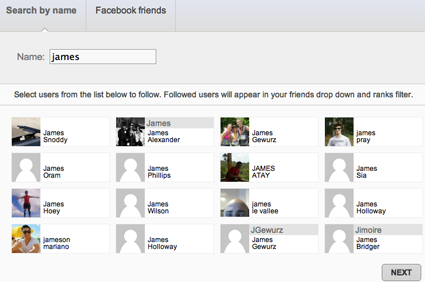 Revised Settings: Privacy, Profile Pictures, and Updating Your Birthday
At Smashrun, we take your privacy settings very seriously. Previously, you could only set your profile to private so that no one else could see your stats. In case you'd like to take extra measures, you can even tell Google not to index your pages and you'll be completely "off the grid".
We've also included a section for "email settings" so you can choose to only receive what's most important to you.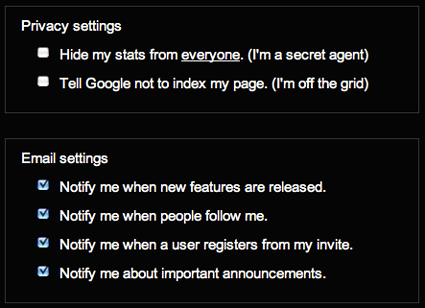 And if you've been a Smashrunner all this time, but haven't had a profile picture because you preferred not to use your Facebook account – we've finally fixed that dilemma… along with the birthday badge!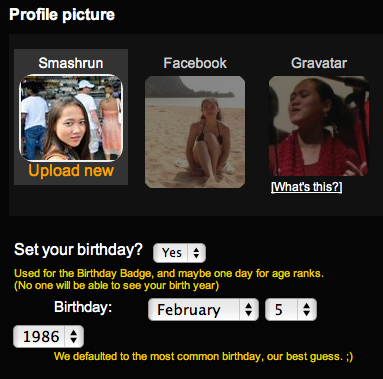 Need help figuring out how to access some of the new features? You can view this screencast of the new features as well.